Forest Stewardship Council® Certified
Dominion Sample is certified by the Forest Stewardship Council®. This certification verifies that we meet the FSC®'s highest standards for manufacturing products that are sourced from forests in an environmentally responsible, socially beneficial, and economically viable way.
The Forest Stewardship Council was created to change the dialogue about and the practice of responsible forestry worldwide. This impressive goal has in many ways been achieved, yet there is more work to be done. FSC® sets forth principles, criteria and standards that span economic, social and environmental concerns. The FSC® standards represent the world's strongest system for guiding forest management toward responsible outcomes. Like the forestry profession itself, the FSC® system includes stakeholders with a diverse array of perspectives on what represents a well-managed forest. While the discussion continues, the FSC® standards for forest management have now been applied in over 57 countries around the world.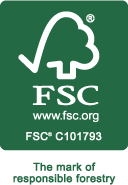 Ask for our FSC® certified products